The ad Hyster J2.50XM-861 Triplex Freelift Sideshift 2.5 ton Elektra Heftruck electric forklift has been sold and is not included in the search!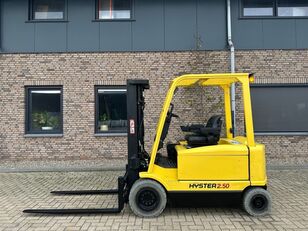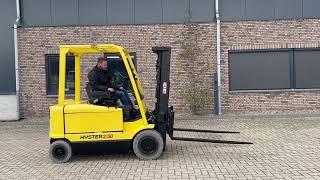 1/29
Model
J2.50XM-861 Triplex Freelift Sideshift 2.5 ton Elektra Heftruck
Location
Netherlands
Veen
Placed on
more than 1 month
Description
Overall dimensions
2.5 m × 1.18 m × 2.19 m
General information
Year of manufacture: 2009
Field of application: Internal logistics

Battery
Battery: 80 V, Year of manufacture 2019, Brand of battery Hawker

Functional
Lifting capacity: 2.500 kg
Maximum passing height: 220 cm
CE mark: yes

Condition
General condition: very good
Technical condition: very good
Visual appearance: very good

Other information
Mast type: triplex

Additional information
Please contact Fred Homborg for more information
Allgemeine Informationen
Baujahr: 2009
Verwendungszweck: Interne Logistik

Batterie
Akku: 80 V, Baujahr 2019, Batteriemarke Hawker

Funktionell
Hubkapazität: 2.500 kg
Bauhöhe: 220 cm
CE-Kennzeichnung: ja

Zustand
Allgemeiner Zustand: sehr gut
Technischer Zustand: sehr gut
Optischer Zustand: sehr gut

Weitere Informationen
Wenden Sie sich an Fred Homborg, um weitere Informationen zu erhalten.
Generelle oplysninger
Produktionsår: 2009
Anvendelsesområde: Intern logistik

Batteri
Batteri: 80 V, Produktionsår 2019, Batterimærke Hawker

Funktionelle
Løftekapacitet: 2.500 kg
Maks. passagehøjde: 220 cm
CE-mærke: ja

Stand
Overordnet stand: meget god
Teknisk stand: meget god
Visuelt udseende: meget god

Yderligere oplysninger
Kontakt Fred Homborg for yderligere oplysninger
Información general
Año de fabricación: 2009
Ámbito de aplicación: Logística interna

Batería
Batería: 80 V, Año de fabricación 2019, Marca de la batería Hawker

Funcional
Capacidad de elevación: 2.500 kg
Altura máxima de circulación: 220 cm
Marcado CE: sí

Estado
Estado general: muy bueno
Estado técnico: muy bueno
Estado óptico: muy bueno

Información complementaria
Póngase en contacto con Fred Homborg para obtener más información.
Informations générales
Année de construction: 2009
Domaine d'application: Logistique interne

Batterie
Batterie: 80 V, Année de construction 2019, Marque de la batterie Hawker

Pratique
Capacité de levage: 2.500 kg
Hauteur de passage maximale: 220 cm
Marquage CE: oui

Condition
État général: très bon
État technique: très bon
État optique: très bon

Informations complémentaires
Veuillez contacter Fred Homborg pour plus d'informations
= Aanvullende opties en accessoires =

- Zijschuiver

= Bijzonderheden =

Te koop

Hyster 2.5 ton Triplex Freelift Sideshift Elektra Heftruck

Zeer nette 80 Volt 2.5 ton Elektra Heftruck met weinig uren!
Direct inzetbaar!
Optioneel leverbaar met 80 Volt acculader, vraag naar de mogelijkheden.

Compleet uitgevoerd met:
- Containermast
- Triplex mast
- Vrije heffing - Freelift
- Verlichting
- Sideshift
- Comfortstoel
- Massieve non marking comfort-banden (dus geen lekrijden en prima comfort)

Merk : Hyster
Type : J2.50XM-861
Serie nr : B416A03655G
Hefvermogen : 2.500 kg
Hefhoogte : 490 cm
Vrije heffing : 160 cm
Doorrij hoogte : 219 cm
Bouwjaar : 2009
Brandstof : Elektra
Ledig gewicht : 5.290 kg
Voltage : 80 Volt
Vermogen : C5 775 aH
Bouwjaar accu : 2019
Merk accu : Hawker

Lepels
Lengte : 150 cm
Breedte : 12 cm

Afmetingen heftruck:
250 x 118 x 219 ( Lengte x Breedte x Hoogte in cm )
Gegeven afmetingen heftruck zijn exclusief lepels.

Bandenmaten
Voor : 23 x 10 - 12 (non-marking)
Achter : 18 x 7 - 8 (non-marking)

Ook voor keuring, transport en onderhoud bent u bij de specialisten van onze firma aan het juiste adres.
Ook voor aankoop / lease van gebruikte en nieuwe heftrucks bent u bij ons aan het juiste adres.

Kijk ook op onze website, www.homborg.nl voor ons complete aanbod !

Type- en specificatiefouten zijn voorbehouden

Al onze genoemde prijzen zijn exclusief Btw, mits anders vermeld.

= Bedrijfsinformatie =

Genoemde prijzen zijn exclusief Btw, mits anders vermeld.

= Meer informatie =

Algemene informatie
Bouwjaar: 2009
Toepassingsgebied: Interne logistiek

Accu
Accu: 80 V, Bouwjaar 2019, Merk accu Hawker

Functioneel
Hefcapaciteit: 2.500 kg
Maximale doorrijhoogte: 220 cm
CE markering: ja

Staat
Algemene staat: zeer goed
Technische staat: zeer goed
Optische staat: zeer goed

Overige informatie
Masttype: triplex

Meer informatie
Neem voor meer informatie contact op met Fred Homborg
Informacje ogólne
Rok produkcji: 2009
Obszar zastosowania: Logistyka wewnętrzna

Akumulator
Akumulator: 80 V, Rok produkcji 2019, Producent akumulatora Hawker

Funkcjonalność
Udźwig: 2.500 kg
Maksymalna wysokość: 220 cm
Oznaczenie CE: tak

Stan
Stan ogólny: bardzo dobrze
Stan techniczny: bardzo dobrze
Stan wizualny: bardzo dobrze

Informacje dodatkowe
Aby uzyskać więcej informacji, należy skontaktować się z Fred Homborg
Informações gerais
Ano de fabrico: 2009
Campo de aplicação: Logística interna

Bateria
Bateria: 80 V, Ano de fabrico 2019, Marca da bateria Hawker

Funcional
Capacidade de elevação: 2.500 kg
Altura máxima de passagem: 220 cm
Marca CE: sim

Estado
Estado geral: muito bom
Estado técnico: muito bom
Aspeto visual: muito bom

Informações adicionais
Contacte Fred Homborg para obter mais informações
Общая информация
Год выпуска: 2009
Область применения: Внутренняя логистика

АКБ
Аккумуляторная батарея: 80 V, Год выпуска 2019, Марка аккумуляторной батареи Hawker

Функциональность
Грузоподъемность подъемного устройства: 2.500 kg
Максимальная пропускная высота: 220 cm
Знак CE: да

Состояние
Общее состояние: очень хорошее
Техническое состояние: очень хорошее
Внешнее состояние: очень хорошее

Дополнительная информация
Свяжитесь с Fred Homborg для получения дополнительной информации